Category Archives:
Entertainment
After the Daily Prompt: Far From Normal (which was quite a bit of fun to sit down and think of some fun facts about me to share), I thought it would pretty cool if I continued this from time-to-time.  I discovered My Little Life and she posts five questions for you to answer every Friday.
So, here it goes.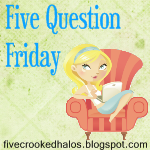 1. What is a hobby you would love to learn and why?
I'm not sure I would call this a hobby, but for some people it is.  I want to learn to skydive.  I am horrifically afraid of heights.  Step stools scare me, but for some reason I want to go skydiving.
2. What do you wish you could have delivered to your house but does not deliver?
This is a toughie as most stuff I want to have delivered can be delivered.  I think I will have to go with Baskin Robbins Jamoca Ice Cream with caramel sauce.  Oh dear just writing this wants me to go on my way home.
3. What's your favorite snow day activity? Inside and out?
I don't have just one outdoor/indoor activity.  It all depends on how much snow we get.  I enjoy making a good snow ball or snow man, and of course snow angels.  If it's not going to amount to enough for that than I revert to sticking my tongue out and letting the snow fall on my it.  My favorite inside activities would include curling up on the sofa with a good book or movie or take a nap.
4. Would you meet a stranger from an Internet dating site?
I've already done that.  Would I do it again? I did. Each date was really nice, but there have been a few that gave me the creeps.  Even though they didn't turn into boyfriend/girlfriend relationships, there are some that I still have as friends today. But it's something that you definitely have to be careful about. Always, always, always meet in a public place and females never get in his car or go back to his place or follow him anywhere.
5. If you had to spend 35 hours in a car with 4 other people, who would you choose?
Ghandi — talk about his philosophy
Steve Jobs — would love to discuss how he made it seem you need an Apple something for day-to-day living
Ellen Degeneres or Whoopi Goldberg — I guarantee you, we'll all need a good joke and a laugh if we're in a car for 35 hours
Aretha Franklin — because we're going to need somebody that can hold a note
Andy Warhol — so he could immortalize our shenanigans. Because there will be shenanigans, I guarantee that