So here are this weeks to Five Question Friday (5QF).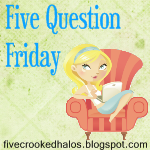 1. What was the most productive thing you have done this week?
Not choke the living daylights out of a couple of my coworkers.  Honestly.
And homework. Since I decided to go back to school and get a master's in Adult Education its work, work, work. I'll be glad when I can go out and have some fun, fun, fun.
2. Enjoying the winter or ready for spring?
Well since we haven't had any snow, I'm ready for spring.  I was really hoping for one snow storm, but not Snowmageddon snow.
The thing with Spring though is that it comes with everything that I'm allergic to. Remember that movie The Boy in the Plastic Bubble. Continue reading →